Retour

Imprimantes 3D

Parcourir par technologie

SLA 3D Printers

Bioprinters

Browse By Brand

iMakr works with the biggest names in additive manufacturing. Browse by manufacturer here.

Scanners 3D

Parcourir par application

3D Scanners By Application

Consommables

SLS Powder by Brand

SLM powders by brand

Imprimer en 3D de l'argile

Imprimer en 3D de l'argile

Pièces et Accessoires

Logiciels

Service

Nos services pour l'impression 3D, la numérisation 3D, la conception 3D et plus encore...

La fabrication additive de fibres de carbone en continu à grande échelle.

Vente

Voir nos articles actuellement en promotion.

Voir les produits d'occasion et de démonstration, qui ont été reconditionnés par nos ingénieurs.
Raise3D E2 | IDEX 3D Printer
Designed with Engineering and Education in mind, the Raise3D E2 is a multi-purpose desktop 3D printer with amazing features, is easy to use and is sure to boost your productivity.
Contact us now to find out about our Education Discount on this printer.
Livraison gratuite pour toute commande sur notre site supérieure à 100 €
Assistance à distance gratuite à vie pour tous les produits
The new E2 from Raise3D features an Independent Dual Extruder (IDEX) configuration which has the dual benefits of opening-up further productivity options and creating cleaner, more reliable dual material prints. The E2 3D printer features many essential functions to enhance the user experience and optimise reliability such as power loss resume, filament run-out detection, monitoring camera and automatic build plate levelling, as well as a generous build volume of 330x240x240mm (13x9.4x9.4in). Compatible with a wide range of material types, including stand-out performance when printing with flexible filaments, the E2 is a multi-purpose printer that is equally at home in design offices, manufacturing workshops or school classrooms.
Independent Dual Extrusion (IDEX) Printing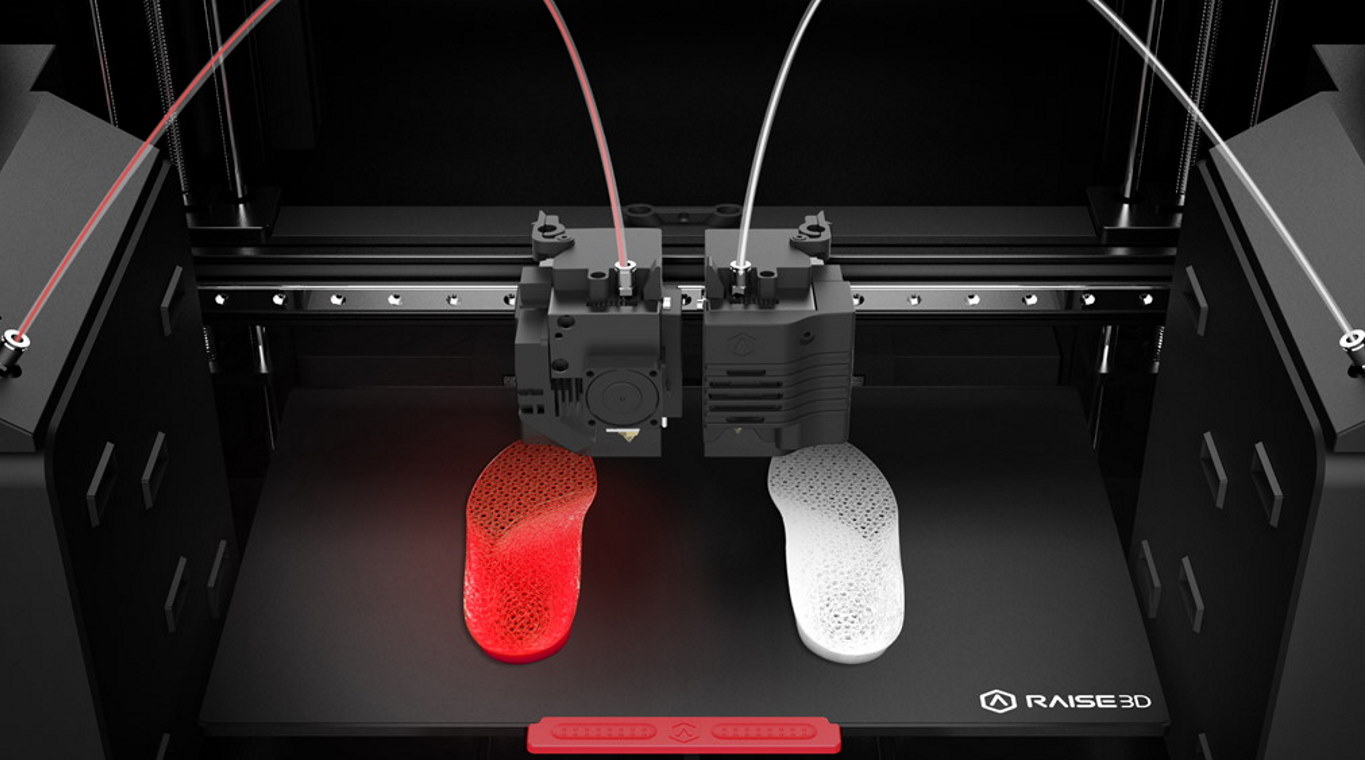 Mirror Mode
Print the mirror opposite of a model and increase your productivity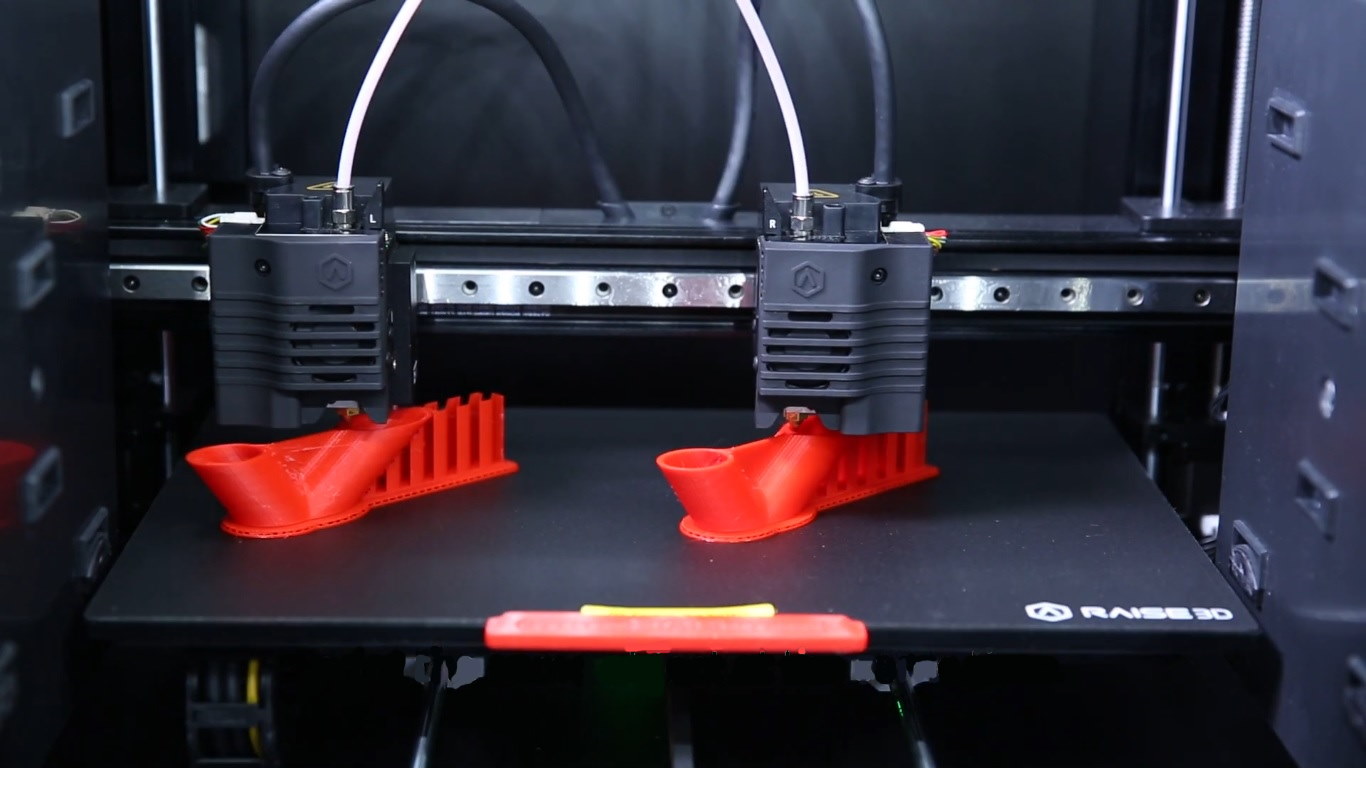 Duplicate Mode
Double your production by printing two of the same object simultaneously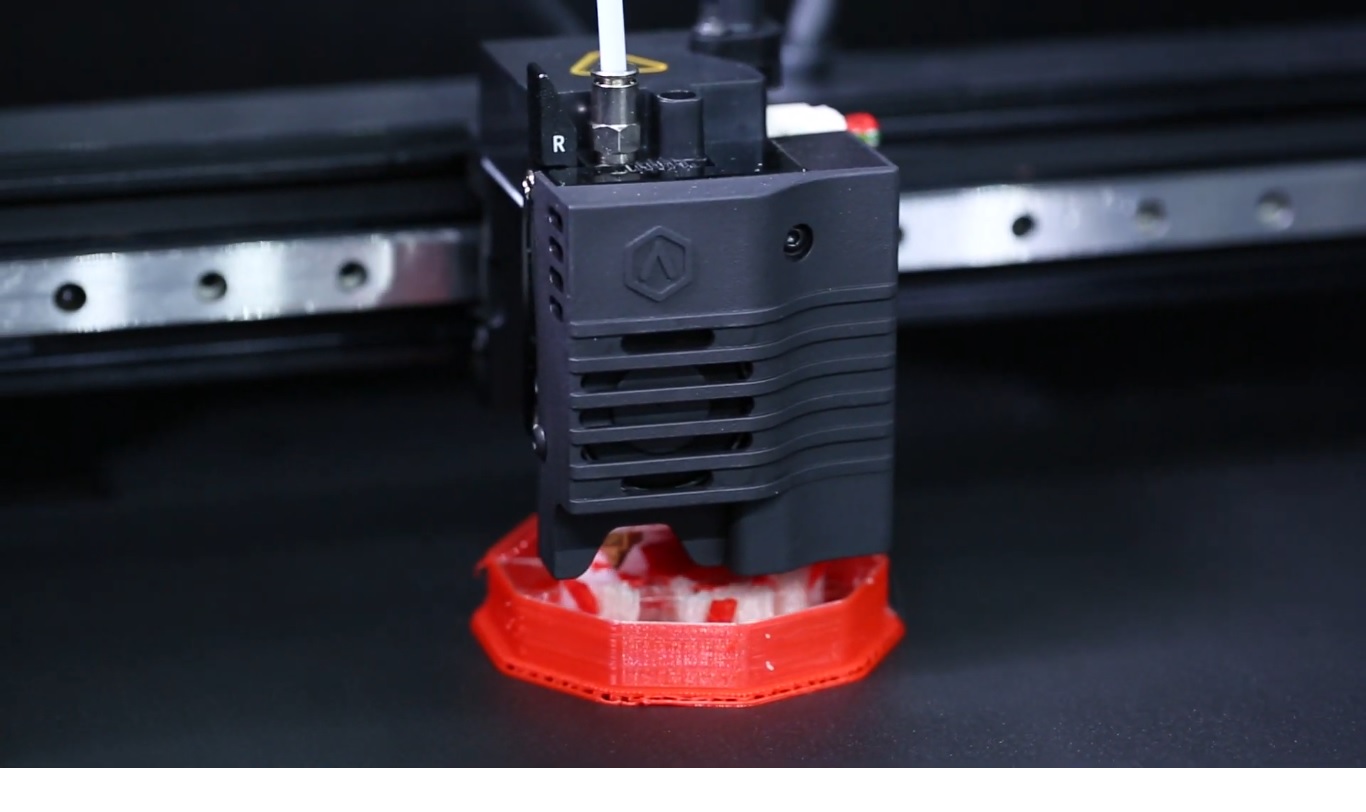 Dual Colour/Material
Print with two different colours or materials at the same time
---
Key Features
The Raise3D E2 boasts a range of features to enhance the user experience and optimise reliability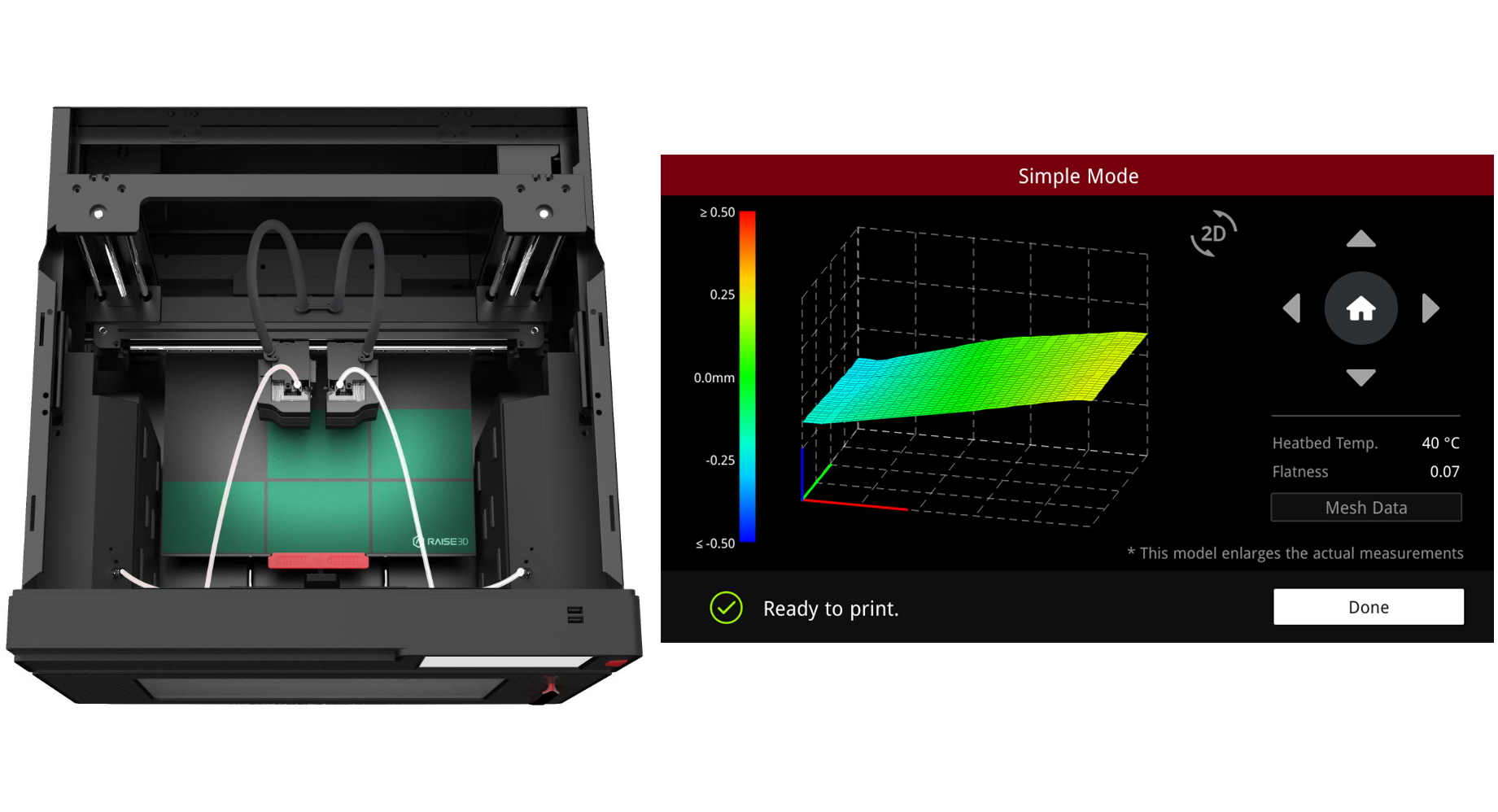 Auto Build Plate Levelling
Automatically calibrates and optimises the distance of the build plate from the nozzles across the whole of the build plate. Improving print reliability and part quality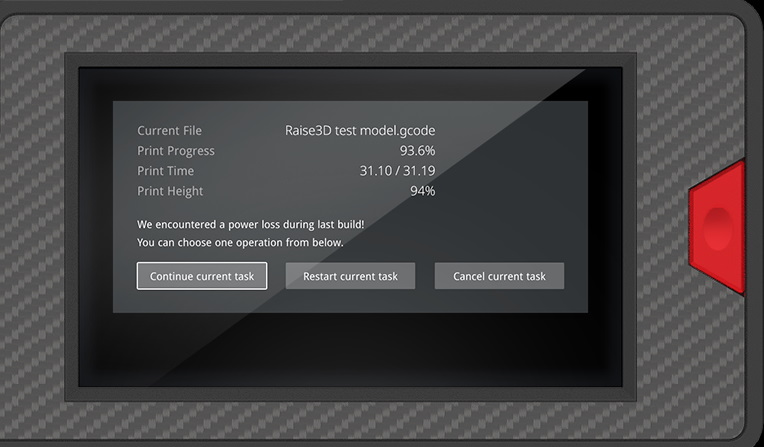 Power Loss Resume
Print progress is automatically stored so that a print can be resumed in the event of power interruption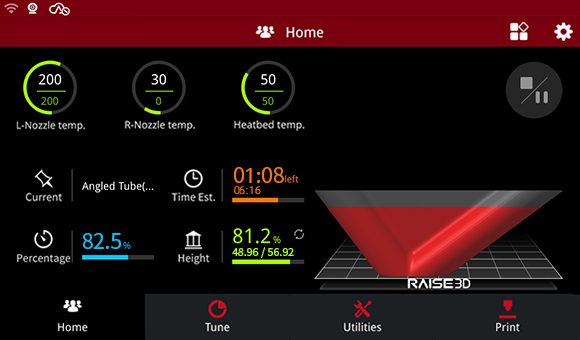 Large Touchscreen
A 7 inch touchscreen displays the print progress, provides on-screen assistance for calibration tasks and allows access to advanced settings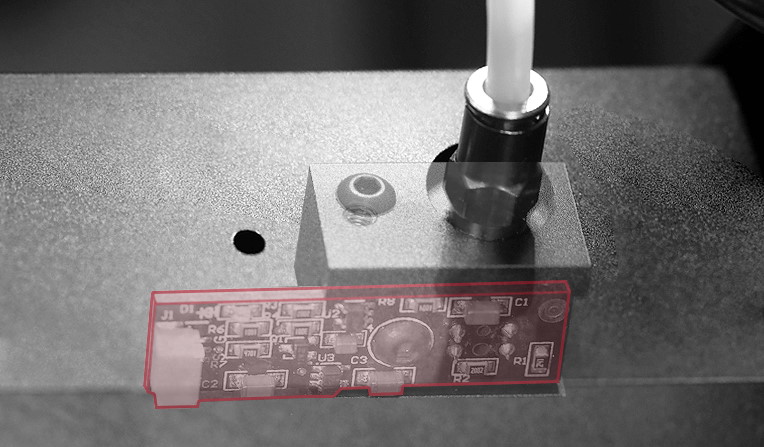 Filament run-Out Detection
Reliable and accurate sensors detect if the printer is out of filament and automatically pauses the print job until more filament is loaded.
---
Safety Features
Built-in safety features make the Raise3D E2 an ideal machine for a design office or classroom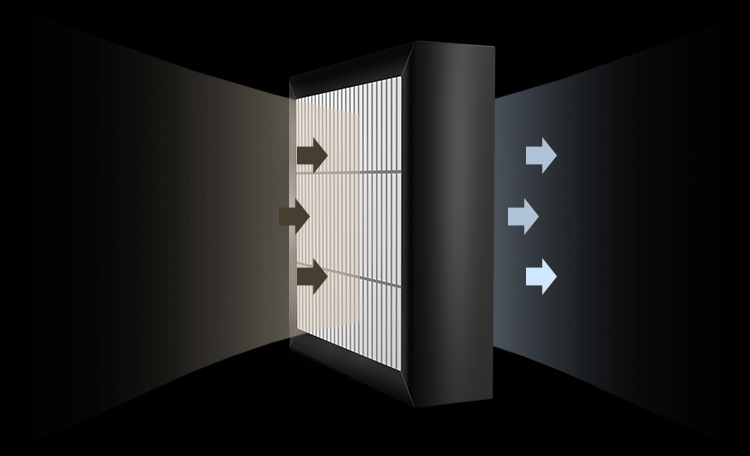 Exhaust Filter
An integrated HEPA filter removes potentially harmful nano-particles from the printer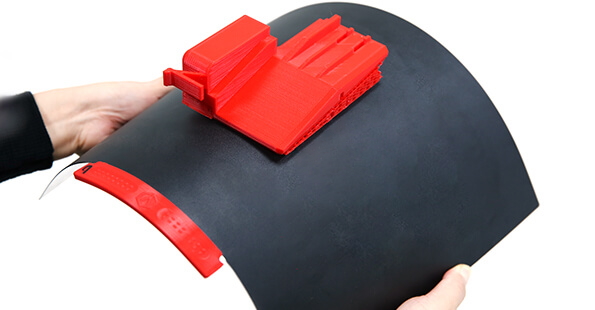 Flexible Build Plate
the flexible build plate quickly releases and removes finished prints. No sharp removal tools required.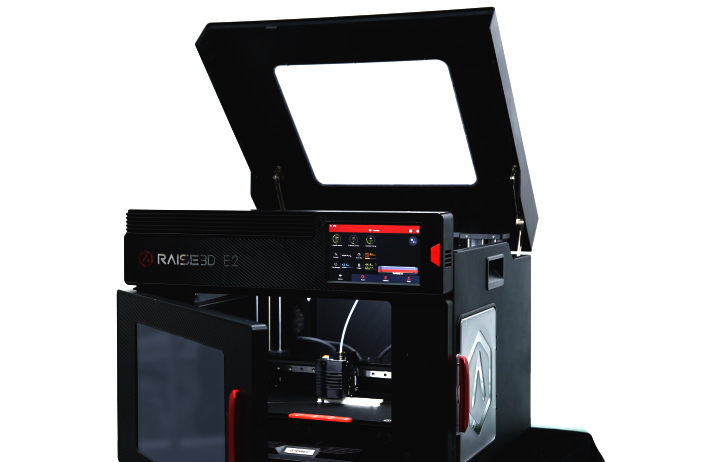 Auto-Pause
The Raise3D E2 detects if the door or lid has been opened and automatically pauses the printer, significantly reducing the risk of injury from moving parts.
---
Software and Connectivity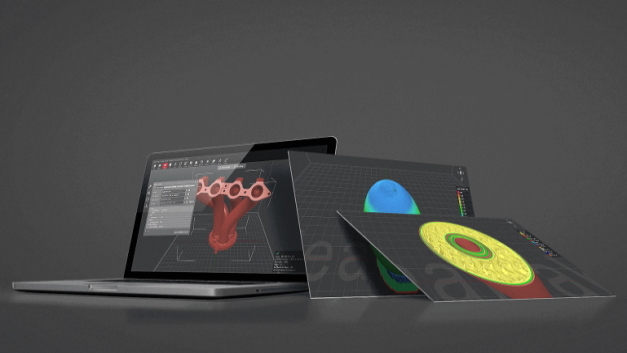 IdeaMaker Software
Free IdeaMaker is a powerful slicing software which comes with a growing number of presets for different filament types.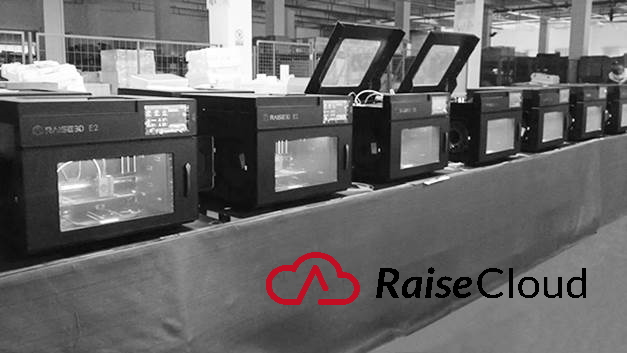 Print Farm Ready
WiFi and LAN connectivity options allow access to RaiseCloud for control of multiple machines.
---
To find out more about the Raise3D E2 3D printer please do not hesitate to get in touch with one of our advisors by calling the telephone number at the top of this page or by requesting a call-back using the form via the button below:
Data sheet
Technologie d'impression

FFF

Volume d'impression L x P x H (mm) // L x P x H (inch)

Single Extruder: 330 x 240 x 240mm (13 x 9.4 x 9.4in) Dual Extruder: 295 x 240 x 240mm (11.6 x 9.4 x 9.4in)

Extrudeur

Independent Dual Extruders

Plateau chauffant

Up to 110°C

Diamètre buse (mm)

0.4 mm (Default), 0.2/ 0.6/ 0.8/ 1.0mm (Available)

Diamètre filament (mm)

1.75mm

Température impression

Up to 300°C

Dimensions

607 x 596 x 465mm (23.9 x 23.5 x 18.3inch)

Fonctionnalité spéciale

Power loss print resume, 7-inch touchscreen, HEPA filter, Filament run out detection

Plateau d'impression

Flexible Steel Plate with Buildtak

Logiciel de découpe

IdeaMaker

Compatible materials

PLA/ABS/HIPS/PC/TPU/TPE/NYLON/PETG/ASA/PP/PVA/Glass Fiber Infused/Carbon Fibre/Metal Fill/Wood Fill

File Format

STL, OBJ, 3MF

Connectivité

WiFi, USB, LAN

Système d'exploitation

Windows, MacOS, Linux

Tension d'entrée / Puissance

100-240V